Tento rok nás čeká řada krásných programů a projektů. Srdečně Vás zveme.
Jak se přihlásit na kurz ?
Podrobné instrukce k rezervaci a platbě naleznete v jednotlivých událostech. Přímo do centra YOGA Zahořánky nás můžete kontaktovat vyplněním formuláře na konci stránky, nebo telefonicky
+420 728 665 201
. Je možné si pobyt v centru prodloužit (450,-/osoba/noc).
Jak se k nám dostanete?
Adresa a odkaz do map naleznete
ZDE.
Momentálně připravujeme program na podzim 2019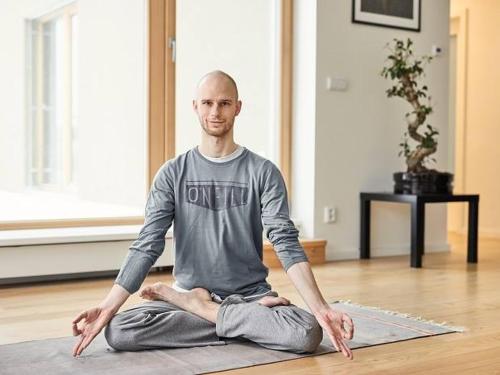 Yoga retreat s Martinem Wagenknechtem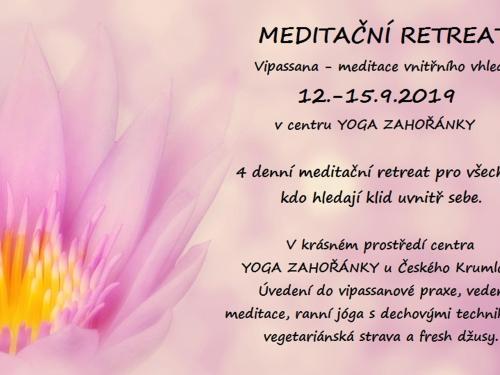 12.-15.9.2019
MEDITAČNÍ RETREAT
Vipassana - Meditace vnitřního vhledu
Srdečně vás zveme na 4 denní meditační retreat, na kterém vás bude doprovázet Pepa Kubovský. Retreat proběhne v krásném přírodním prostředí centra
YOGA ZAHOŘÁNKY
. Vysvětlíme si základy vipassanové meditační praxe a jak zapojit všímavost do každodenního života. Čekají vás vedené meditace a diskuze o dharmě. Pro zájemce bude možnost ranní jógy s dechovými technikami a pranajámou s Dominikou Thimovou, které ještě prohloubí vaší zkušenost a připraví vaše tělo pro meditaci.
PRO KOHO JE KURZ VHODNÝ:
Pro každého
kdo si uvědomuje svá omezení a chce je překročit
kdo pracuje na svém vnitřním rozvoji
kdo chce věnovat 4 dny jen sám sobě
kdo hledá otázky a nemůže najít odpovědi
kdo hledá klid a stabilitu
S KÝM RETREAT STRÁVÍTE:
S Pepou Kubovským:
který se věnuje buddhistickým tradicím více jak 11 let, posledních 5 let zejména Vipassaně - meditaci vnitřního vhledu. Opakovaně vycestoval za učiteli do Thajska, Indie a na Srí Lanku, kde trávil čas, aby prohloubil svou zkušenost a praxi.
S Dominikou Thimovou,
která měla to štěstí ho na těchto cestách doprovázet. Posledních 5 let se věnuje nejen meditaci vnitřního vhledu, ale i józe a dechovým cvičením, které prohlubují a usnadňují osobní růst.
Kapacita: 8 lidí
Cena: 4 800 Kč (ubytování, lehká vegetariánská strava - snídaně, oběd, svačina, fresh džus, vedení retreatu, lekce jógy)
Rezervace a platba do: 15.8.2019 (rezervovat můžete na e-mailové adrese: zahoranky@gmail.com
nebo vyplněním formuláře na konci stránky.
❤ ❤ ❤
UPLYNULÉ AKCE 2019
2.8.-12.8. 2019
- Hormonální jóga
14.07. - 23.07. 2019 - Kemp Humanus Haus
18. 06. 2019
-
ZVUKOVÁ LÁZEŇ S TIBETSKÝMI MÍSAMI A JÓGA
14.6. - 16.6.2019
-
JUICE AND YOGA SPIRIT
24.5. - 26.5. 2019
- Jógový kemp s Alexandrou Bravacz
20. 5. a 21.5. 2019
- JARNÍ JÓGA S KONCERTEM NA TIBETSKÉ MÍSY (Jíří Tůma)
17.5. - 19.5. 2019
-
Kundalini jóga
na téma : KRÁSA VYCHÁZÍ ZEVNITŘ
s Lenkou Medkovou
10.5.-12.5. 2019
-
Prožitkový seminář - přijímám a miluji své tělo s Lenkou Hruškovou
3.5. - 5.5. 2019
-
JARNÍ RETREAT HORMONÁLNÍ JÓGY s Galinou Akimovou ,
na téma: Miluji se
26.4. - 28.4. 2019
-
Jarní jógový pobyt s Terezou Kalinovou
We invite you to a weekend meditation retreat in the beautiful center of YOGA Zahorany close to Český Krumlov.
Vipassana is a meditation technique that teaches us to see things as they really are. It is the path of self-transformation through self-observation. He is one of India's oldest meditation techniques, which he re-discovered and began to teach Gotama Buddha more than 2,500 years ago as a universal means of treating suffering and as an art of living.
Meditation will be led by Pepík Kubovský, who has been teaching Buddhist doctrine for more than 10 years. Through the Tibetan tradition, he came to Vipassana, or meditation of the inner insight. Over the last three years, he has been studying for the monasteries in Thailand and Sri Lanka, which are focused on the tradition of forest monks.
We begin to work with mental impurities and focus on the deep connection between mind, body and feelings. Let us explain what the right approach means in meditation. Through proper concentration and disciplined attention, we understand the laws governing our thoughts, feelings, judgments, and perceptions. By direct experience, we understand how we grow or fall, how we create or free from suffering. Retreat will be in silence.
The price is 1500, - for accommodation and meals (vegetarian), or we will be grateful for financial support for the development of teaching and learning. The retreat capacity is 10 people. Signing up for a retreat is accepted in the news or e-mail zahoranky@gmail.com, where you name, contact, and e-mail address. We then send you more information and information about the retreat payment. Booking of the place of retreat is binding only after the payment for the stay. It is possible to extend the stay in the center (450, - / person / night).
PROGRAM:
Friday 12.10.2018
18:00 - 20:00 Arrival, soup
20:00 - 22:00 Introduction to Doctrine, Meditation (sitting and lying down)
Saturday 13.10.2018
5:30 - 6:30 Yoga (for those interested)
6:30 - 7:30 Meditation (sitting and lying down)
8:15 - 9:00 Breakfast
9:00 - 11:00 Meeting, meditation (sitting, lying down and walking)
12:00 - 13:00 Lunch
15:00 - 17:00 Engagement, meditation (sitting, lying down and walking)
18:00 - 19:00 Dinner
20:00 - 22:00 Meditation (sitting and lying down)
Sunday 14.10.2018
5:30 - 6:30 Yoga (for those interested)
6:30 - 7:30 Meditation (sitting and lying down)
8:15 - 9:00 Breakfast
9:00 - 11:00 Meeting, meditation (sitting, lying down and walking)
12:00 - 13:00 Lunch
13:30 - 15:00 Engagement, meditation (sitting, lying down and walking)
16:00 - Departure