Podzim 2019
Jak se přihlásit na kurz ?

Podrobné instrukce k rezervaci a platbě naleznete v jednotlivých událostech. Přímo do centra YOGA Zahořánky nás můžete kontaktovat vyplněním formuláře na konci stránky, nebo telefonicky
+420 728 665 201
. Je možné si pobyt v centru prodloužit!
Jak se k nám dostanete?
Adresa a odkaz do map naleznete
ZDE.
ŘÍJEN 2019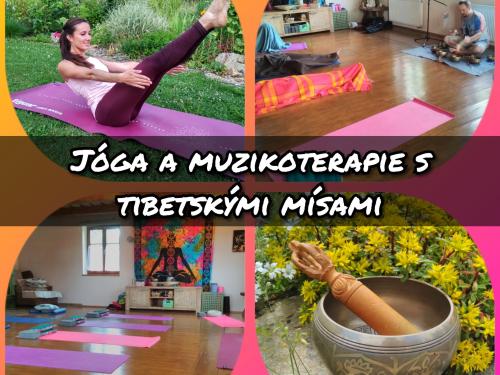 22.10.2019 17:00
TERAPEUTICKÁ JÓGA A MUZIKOTERAPIE S TIBETSKÝMI MÍSAMI
S Dominikou Thimovou a Jirkou Tůmou
Zveme Vás na podzimní krásné setkání v YOGA Zahořánkách. Propojení jógy a muzikoterapie. Přijďte si užít společnou jógu, po které bude následovat muzikoterapie s tibetskými mísami a malé občerstvení u čaje. Čeká vás krásná atmosféra našeho centra a přátelé.
Terapeutická jóga je méně dynamická lekce jógy, zaměřená na správné postavení páteře a její uvolnění. Lekcí vás povede Dominika Thimová. Na tibetské mísy bude hrát Jiří Tůma (hudbazivota.cz)
Nutná rezervace vstupenek přes níže uvedený formulář! Podrobné informace o programu posíláme emailem.
Cena za celý program 300,-
Těšíme se na vás při józe a tibetských mísách!
❤❤❤
LISTOPAD 2019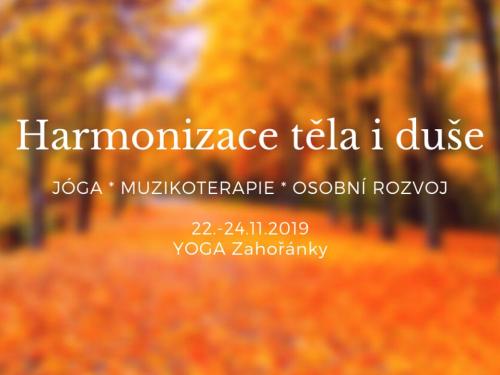 22.-24.11. 2019
HARMONIZACE TĚLA I DUŠE
Jóga, muzikoterapie, osobní rozvoj
Zveme Vás na víkendový pobyt s bohatým programem zaměřeným na harmonizaci nejen Vašeho těla, ale i duše.
Dozvíte se, jak si tvořit ve svém životě cokoliv nastavením vlastního přesvědčení. Co dokáže spojení emoce a síly myšlenky. Jak si najít a odstranit špatné programy, které nás brzdí v základních oblastech života - vztahy, zdraví, práce, peníze.
Těšte se na individuální přístup ke každému, každodenní cvičení jógy, relaxace a meditace při muzikoterapii 432 Hz.
Kdy: 22.-24.11. 2019 , v pátek od 18:00 a v neděli do 11:00
Kde: YOGA Zahořánky
S kým: Veronika Fraitová (osobní rozvoj), Denisa Šulíková (jóga), Aleš Chovaneček (muzikoterapie)
Cena: 3.500,- (v ceně strava, ubytování, bohatý program)
Rezervace nutná!
❤❤❤
UPLYNULÉ AKCE 2019
8.10. 2019 -
TERAPEUTICKÁ JÓGA A MUZIKOTERAPIE S TIBETSKÝMI MÍSAMI (Jirka Tůma)
23.8.-25.8. 2019
- Jógový pobyt s Martinem Wagenknechtem
2.8.-12.8. 2019
- Hormonální jóga s Galinou Akimovou
14.07. - 23.07. 2019 - Kemp Humanus Haus
18. 06. 2019
-
ZVUKOVÁ LÁZEŇ S TIBETSKÝMI MÍSAMI A JÓGA
14.6. - 16.6.2019
-
JUICE AND YOGA SPIRIT
24.5. - 26.5. 2019
- Jógový kemp s Alexandrou Bravacz
20. 5. a 21.5. 2019
- JARNÍ JÓGA S KONCERTEM NA TIBETSKÉ MÍSY (Jíří Tůma)
17.5. - 19.5. 2019
-
Kundalini jóga
na téma : KRÁSA VYCHÁZÍ ZEVNITŘ
s Lenkou Medkovou
3.5. - 5.5. 2019
-
JARNÍ RETREAT HORMONÁLNÍ JÓGY s Galinou Akimovou ,
na téma: Miluji se
26.4. - 28.4. 2019
-
Jarní jógový pobyt s Terezou Kalinovou
We invite you to a weekend meditation retreat in the beautiful center of YOGA Zahorany close to Český Krumlov.
Vipassana is a meditation technique that teaches us to see things as they really are. It is the path of self-transformation through self-observation. He is one of India's oldest meditation techniques, which he re-discovered and began to teach Gotama Buddha more than 2,500 years ago as a universal means of treating suffering and as an art of living.
Meditation will be led by Pepík Kubovský, who has been teaching Buddhist doctrine for more than 10 years. Through the Tibetan tradition, he came to Vipassana, or meditation of the inner insight. Over the last three years, he has been studying for the monasteries in Thailand and Sri Lanka, which are focused on the tradition of forest monks.
We begin to work with mental impurities and focus on the deep connection between mind, body and feelings. Let us explain what the right approach means in meditation. Through proper concentration and disciplined attention, we understand the laws governing our thoughts, feelings, judgments, and perceptions. By direct experience, we understand how we grow or fall, how we create or free from suffering. Retreat will be in silence.
The price is 1500, - for accommodation and meals (vegetarian), or we will be grateful for financial support for the development of teaching and learning. The retreat capacity is 10 people. Signing up for a retreat is accepted in the news or e-mail zahoranky@gmail.com, where you name, contact, and e-mail address. We then send you more information and information about the retreat payment. Booking of the place of retreat is binding only after the payment for the stay. It is possible to extend the stay in the center (450, - / person / night).
PROGRAM:
Friday 12.10.2018
18:00 - 20:00 Arrival, soup
20:00 - 22:00 Introduction to Doctrine, Meditation (sitting and lying down)
Saturday 13.10.2018
5:30 - 6:30 Yoga (for those interested)
6:30 - 7:30 Meditation (sitting and lying down)
8:15 - 9:00 Breakfast
9:00 - 11:00 Meeting, meditation (sitting, lying down and walking)
12:00 - 13:00 Lunch
15:00 - 17:00 Engagement, meditation (sitting, lying down and walking)
18:00 - 19:00 Dinner
20:00 - 22:00 Meditation (sitting and lying down)
Sunday 14.10.2018
5:30 - 6:30 Yoga (for those interested)
6:30 - 7:30 Meditation (sitting and lying down)
8:15 - 9:00 Breakfast
9:00 - 11:00 Meeting, meditation (sitting, lying down and walking)
12:00 - 13:00 Lunch
13:30 - 15:00 Engagement, meditation (sitting, lying down and walking)
16:00 - Departure
Najdete nás také na letacek.cz